25 YEARS OF RESEARCH AND DEVELOPMENT
VARIED DESIGNS TO SUITS DIFFERENT ANATOMIES
LONG TERM WELL DOCUMENTED CLINICAL RESULTS
SURGEON FRIENDLY INSTRUMENTATION
CLEAN ROOM MAINTAINED AS PER STANDARDS CLASS 100,000/ISO8
25 YEARS OF RESEARCH AND DEVELOPMENT
UNIQUE
FEATURES
» Technically Strong, Professional Organization
» Clean Room Maintained As Per Standards Class 100,000/ISO8.
» CNC Machines And Latest Equipments To Maintain Quality and Quantity of Implants And Instruments.
» Well Documented, Followed And Maintained Procedures.
» Stringent Quality Check Procedures At All Levels Of Manufacturing.
» 3rd Party Quality Check Of Raw Materials And Casting.
» Emphasis on Research And Development For All Processes - From Designing To Manufacturing.
» Accredited with FDA, ISO : 13485 : 2016 & ISO 9001 : 2015.
ENHANCED

STABILITY.
PROVEN

MODULARITY.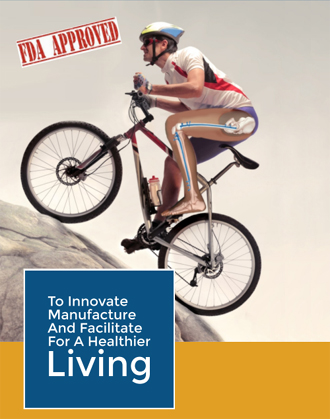 E TABLE COFFEE BOOK ON MEDICAL DEVICES